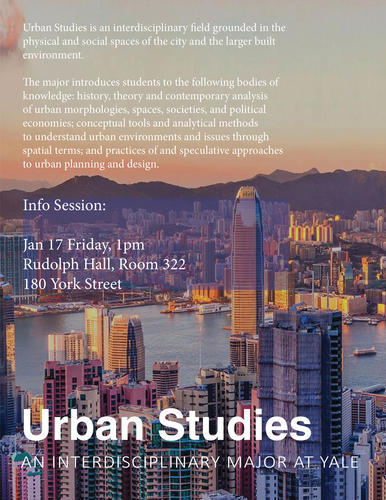 The Urban Studies Major is hosting an Info Session on Friday, Jan 17 at 1:00pm!
Location: Yale School of Architecture
(Rudolph Hall: 180 York Street, 3rd Floor, Room 322)
All students are invited to join School of Architecture Professors Joyce Hsiang (DUS), Elihu Rubin and Anthony Acciavatti to learn more about the curriculum, requirements and declaration of intent process for the major in Urban Studies. Light refreshments will be served.
The Urban Studies major is an interdisciplinary field grounded in the study of the physical and social spaces of the city and the larger built environment. It is designed to prepare students for fields related to urban planning, design and development. The courses are organized around surveys, methods and electives drawn from different departments across the University.